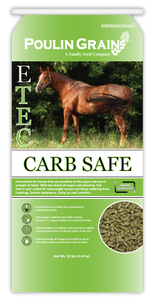 Poulin Grain E-TEC® Carb Safe
Formulated for horses that are sensitive to the sugar and starch content of feeds. With low levels of sugars and starches, this feed is well-suited for overweight horses and those suffering from Cushings, Insulin Resistance, Tying Up and Laminitis.
E-TEC® Super Premium Horse Feeds contain the latest science based technology to provide horses with a low carb performance line of feeds.
Included in the E-TEC® line:
Live cell yeast that aids in digestion, absorption and overall gut health

Organic trace minerals that have increased bioavailability and provide increased resistance against stress and disease

All natural Vitamin E which is significantly more potent than synthetic vitamin E, making it more available to the horse and staying active in the body for longer

100% organic selenium, a powerful antioxidant and significant in boosting immune function

Enhanced levels of Omega 3 to aid in anti-inflammation, performance and recovery
Molasses-free
---
We Also Recommend