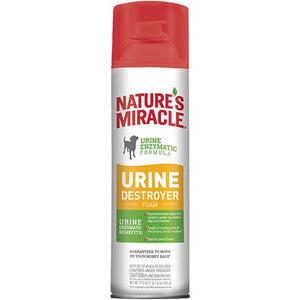 Nature's Miracle Urine Destroyer - Foam
Nature's Miracle Urine Destroyer is tough on strong dog urine and the yellow, sticky residue that comes along with it. The bacteria-based formula produces enzymes when it comes in contact with bio-based messes to target urine and freshens with a light fresh scent. When used as directed it's safe to use on carpets, hard floors, furniture, fabrics and more.
Foam penetrates down into carpet to power out severe dog urine messes*
Tough on strong urine & the yellow, sticky residue*
Safe for pets & home*
*When used as directed
People and pets should not be allowed on treated areas until product has dried.

DIRECTIONS FOR USE 
Before using, test surfaces to be treated for color fastness by applying to a hidden area. Wait 1 hour, then wipe with cloth. If color is removed from the test area, do not use Nature's Miracle® Urine Destroyer Foam on those surfaces. Do not use on untreated hardwood, leather, suede, silk or wool specialty fabrics. Always use Nature's Miracle Urine Destroyer Foam products first. Other cleaners and detergents may fail and chemically "set" stains that will be impossible to remove.

FOR STAIN REMOVAL

Wipe up as much of the stain as possible.
Shake can well.
Hold can upside down and point toward treatment area. Spray until foam is covering the mess. Foam will break down into carpet, penetrating the mess.
Allow to work for 15 minutes, then blot up stain with a clean cloth.
Allow area to dry for 24 hours.
For severe, old or stubborn stains (feces or vomit/hairball), follow steps 1-4 above and follow with gently scrubbing the stain with a soft bristle brush for 1 minute, then allow to dry for 24 hours.
FOR ODOR ELIMINATION

Wipe up excess odor-causing material.
Shake can well.
Hold can upside down and point toward treatment area. Spray area with product until foam is covering the area. Saturation is important so that this product can penetrate deeply to the odor source.
Do not wipe up access.
Leave treated area wet and let it air dry. Odor will fade as this product dries. Complete odor elimination only happens when all odor sources are reached.
Water, Enzymatic Blend, Surfactants, lsopropyl Alcohol, Fresh Fragrance, Odor Counteractant, Preservative


Ingredient 

CAS#

Functional Purpose



Water
7732-18-5
Base
 
Isobutane
75-28-5
Propellant
 
Isopropyl Alcohol
67-63-0
Propellant
 
Fragrance
withheld
Fragrance
 
Surfactants and Chelating Agents
withheld
Surfactants and Chelating agents
 
Viable Bacteria Culture
withheld
Microbial Concentrate
 
EDTA
64-02-8
Stabiliser
 
Butane
106-97-8
Propellant
 
Alcohols, C10-14, ethoxylated
68439-46-3
Surfactant
 
Solvent
Withheld
Solvent
 
Sodium Xylene Sulfonate
1300-72-7
Cleaning Agent/Surfactant
 
Pentasodium Triphosphate 
7758-29-4
Detergent
 
Benzisothiazolinone
2634-33-5
Preservative
 
Benzyl Alcohol
100-51-6
Fragrance 


Benzyl benzoate
120-51-4
Fragrance


Butylphenyl methylpropional (Lilial)
80-54-6
Fragrance


Coumarin
91-64-5
Fragrance


Hexyl cinnamal
101-86-0
Fragrance


alpha-iso-Methylionone
127-51-5
Fragrance


Dipropylene glycol
25265-71-8
Inert
 
Citric Acid
77--92-9
pH Balance
 
Tetrasodium pyrophosphate 
7722-88-5
Detergent
 
Sodium Sulfate
7757-82-6
Cleaning Agent/Surfactant
 
Methylchloroisothiazolinone and Methylisothiazolinone
55965-84-9
Preservative
Contents under pressure. Keep away from heat, sparks and open flame. Exposure to temperatures above 120°F may cause bursting.
Storage
: Store in a cool, dry place away from children.
Disposal
: Do not puncture or incinerate! Place in trash or offer for recycling if available.
KEEP OUT OF REACH OF CHILDREN AND PETS
CAUTION. CONTENTS UNDER PRESSURE. Container may explode if heated. Do not expose to heat or store at temperatures above 120°F. Do not puncture or incinerate container. Use with adequate ventilation.
FIRST AID TREATMENT: If swallowed:

 
Call a Poison Control Center or doctor immediately. Do not induce vomiting.
If in eyes:

 
Rinse with water for 15 minutes. If on skin: Rinse well with water.
If breathed in:

 
Move person into fresh air.
If you are not satisfied with this product for any reason, send your written request for a refund along with the reason for dissatisfaction to the address below, together with the original dated store receipt showing the price you paid. Please allow 6-8 weeks for processing.
United Pet Group
a division of Spectrum Brands, Inc,
3001 Commerce St.
Blacksburg, VA 24060
---
We Also Recommend