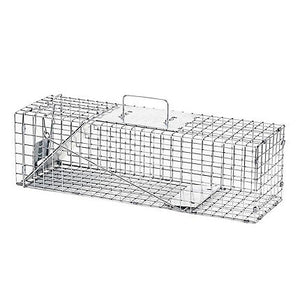 HAVAHART® MEDIUM 1-DOOR TRAP
Best used for rabbits, skunks, and squirrels
Spring-loaded door quickly reacts to lock animal in securely and prevents escapes
Smooth edges inside the trap help prevent injury to the animal
Solid metal door and handle guard protect you from contact with the animal
Constructed with durable, rust-resistant galvanized steel
Havahart® Medium 1-Door TrapCatching mid-sized animal pests can be tricky, but with the Havahart® Medium 1-Door trap, you can confidently capture squirrels, rabbits, or skunks before they cause damage to your landscape, build nests in your home, or spray curious pets or children. Trapping animal pests in a humane manner, in a way that's safe both for you and the animal, is the specialty of Havahart®. Using this trap, you can confidently remove pests from your property and release them far away from settled areas.
Designed by Trapping ProsYou don't need to be an expert animal trapper to use this Havahart® Medium 1-Door Trap. Made by trapping experts, it's simple to use and provides an effective and reliable solution to medium-sized animals causing a problem in your yard or garden. No matter your level of trapping experience, this trap is a humane solution for your pest control needs!
Simple to OperateThis Havahart® Medium trap is designed for animals larger than rodents, such as rats and mice, but smaller than a raccoon or armadillo. Using the correct size trap ensures that you can catch the right animal. This trap is simple to set. Using the elongated lever, set the trap in the open position and add a small amount of food for bait. Your instruction manual has bait recommendations for the type of animal you wish to catch. Once the animal is inside, the door closes automatically, trapping the animal without the use of chemicals or adhesive traps.
HAVAHART®

 

MEDIUM 1-DOOR TRAP PRODUCT DETAILS
Model #
1078
Dimensions
24"" x 7" x 7"
Weight
5.72 lb
Materials

Galvanized steel
One-piece 12-gauge wire mesh

Number of Doors
1
Door Type
Spring-loaded
Best Used For
---
We Also Recommend