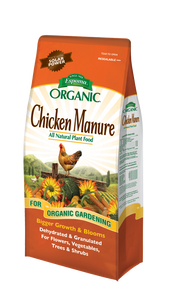 Espoma Organic Chicken Manure
Dehydrated & Granulated fertilizer for Flowers, Vegetables, Trees & Shrubs
All natural Poultry Manure
Dehydrated and granulated for easy application
Approved for organic gardening
For Use On
Vegetable & flower garden beds; around trees & shrubs.
When To Use
Begin application in the spring.  Feed flowers & vegetables monthly throughout the growing season.
Feed trees & shrubs spring and fall.
How Much To Use
For Flowers, Vegetable, Trees & Shrubs.
Garden Beds: Mix into the top 4″ of soil at a rate of 5 lbs. per 100 sq. ft.
Flowers & Vegetables:  Apply 2.5 TBSP. per plant.
Trees & Shrubs:  Apply 1 cup per foot of branch diameter around the drip line – Double for plants larger than 3 feet in diameter.
How To Apply
Sprinkle on the soil surface and then water.
Specs
Available in 3.75 & 25 lb. bags
---
We Also Recommend