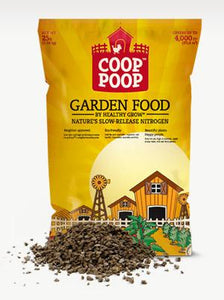 Coop Poop Garden Food Nature's Slow Release Nitrogen
Organic gardening with what comes naturally.
It's what Coop Poop™ is all about.
Coop Poop™ organic fertilizer by Healthy Grow® is naturally packed with the essential nutrients your soil needs to grow hearty, healthy plants.
This Aerobically Composted Chicken Manure (ACCM) is high in calcium for strong plant tissue development and disease resistance, while also improving photosynthesis, nutrient uptake and starch conversion. Plus, Coop Poop is virtually odor-free compared to the pungent scent normally associated with other manure-based composts.
But don't just take our word for it. Coop Poop is also backed by years of reliable university research and has consistently outperformed other organic alternatives available.
Pick up a bag of Coop Poop and give it a try. You – and your garden – will be glad you did.
Nutrition Source
Aerobically Composted Chicken Manure: An all-natural, slow-release, non-burning organic blend.
Benefits
Easy to use and apply at any time
Will not burn
High performance improves soil health
Stimulates microbe activity
High in calcium
Low odor
Guaranteed Analysis
Total Nitrogen
0.38% Water Soluble Nitrogen
1.62% Water Insoluble Nitrogen*
(N)
2.0%
Available Phosphate
(P2O5)
4.0%
Soluble Potash
(K2O)
3.0%
Calcium
(Ca)
8.0%
Magnesium
(Mg)
0.6%
Derived From: Aerobically Composted Chicken Manure
*1.62% slowly available nitrogen from aerobically composted chicken manure
F001986
Information regarding the contents and levels of metals in this product is available on the internet at http://www.aapfco.org/metals.html
Application Rates
Spring garden preparation
Apply approximately 25 lb per 1,000 sq ft and till into the top 4-5 in. of soil.
Fall garden preparation
Apply a thick blanket of Coop Poop to the garden and till in along with fall leaves and other organic material.
Perennials
Apply early in spring, 5 lb per 100 sq ft, working it into top 4-5 in. of soil. Repeat in early summer.
Vegetables and annuals
Best if tilled in spring or fall at 25 lbs per 1,000 sq ft. Topdress every 3 weeks with about a handful per sq yd, keeping a few inches away from plant base.
Container plantings
Mix 1 part Coop Poop and 20 parts soil. Lightly topdress monthly.
Always check local fertilizer regulations regarding phosphorus and other nutrient use in target areas. In some states, our product may be exempt from phosphorus laws due to the natural ingredient.
For measuring purposes:
3 cups = approximately 1 lb of product.
Lawns
Covers up to 4,000 sq. ft.
How
Apply to a dry, recently mowed lawn. If no rainfall is expected for a prolonged period, improved results may be obtained by watering in.
When
May be applied anytime.
How Much
Apply at the regular rate of 10 lb per 1,000 sq ft or a heavy rate of 20 lb per 1,000 sq ft. The higher rate can be most beneficial in late fall after the lawn has been aerated. When seeding or sodding, apply at the 10 lb rate under the sod or over new seed.
Storage
Product has an unlimited shelf life but MUST be kept dry. Unused portion should be kept in original package and sealed to prevent from getting wet.
Safety
Coop Poop is a long lasting fertilizer, up to 12 weeks, which won't burn your lawn. As with any fertilizer it should not be applied near water, storm drains or drainage ditches.
Application
Apply with any type of drop or rotary spreader. Coop Poop is a homogenous product and each granule contains all of the essential nutrients and organic matter needed to produce a healthy lawn.
Spreader Settings
| | |
| --- | --- |
| Spreader Model Application Rate (covers 4,000 sq ft) |   |
| All Earthway Broadcast Spreaders | 19 |
| All Scotts Broadcast Spreaders | 7 |
| All Scotts Drop Spreaders | 13 |
| Agri Fab | 7 |
| Vigoro Rotary | 4 |