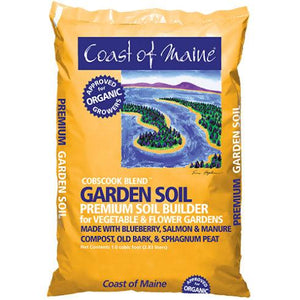 Cobscook Blend Garden Soil
Cobscook Blend Garden Soil
Uses: All-purpose garden soil  – Great for growing Vegetables!  Also great for conditioning sandy soil, aerating compacted and clay soils
Coast of Maine Organic Products Cobscook Blend Garden Soil is made with a blend of salmon and blueberry compost, aged bark, sphagnum peat moss and horticultural limestone. It requires less frequent watering and works well with acid-loving plants like azaleas, rhododendrons, holly, pieris and blueberry bushes.
It is permitted for use in the production of MOFGA certified organic crops.
Available in 1 & 2cf bags.
---
We Also Recommend